Football camps in the sports village Hinsbeck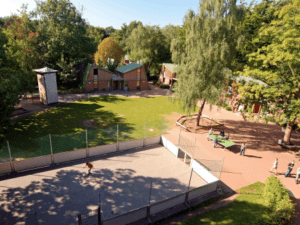 Football vacation in the sports village Hinsbeck (Lower Rhine)
The sports village Hinsbeck is an accommodation with certified quality ("Gut drauf"- Certificate) and offers everything needed to have a great week full of football. Our football camps in Hinsbeck take place under best conditions. The accommodation provides various opportunities to do sports, have fun and feel at ease. The sports vacation village has 30 comfortable houses to accommodate children and young people.
Sportive, open-hearted & rich in variety – the sports village in Hinsbeck
The total of 30 houses of the village offers enough space for the participants of our football camps. Every house is very comfortable and each is provided with a bathroom and 6-8 beds. Our footballers will sleep in comfy bunk beds. In addition, there is space for bags and belongings. Daily necessaries can be stored in shelves and cupboards. On top, in every house you will find an additional room for the group.



Child-friendly & diverse catering
The catering will take place as a buffet. The following special requirements and wishes concerning the participant's nutrition can be covered by the accommodation: Allergies and cases of incompatibility, nutrition restrictions due to diseases (such as diabetes, lactose-intolerance), religious regulations or vegetarian/vegan nutrition.



Sport facilities in and around the accommodation
The artificial turf close to the accommodation in combination with a sports hall ensure perfect conditions for our football camps. Next to these sports grounds, the accommodation also offers a field for street soccer, a beach volleyball field, table tennis table and an agility skill area.
Various free time activities
Various options to spend your free time during camp with exciting activities will be provided by the sports village Hinsbeck. On site you will find a huge sports hall, a great cinema room, a disco room with DJ-desk, an adventure playground and various possibilities to relax.



The sport village Hinsbeck's location
The sports village in Hinsbeck is located in the biggest natural reserve of the Lower Rhine, close to the Dutch border. The village is surrounded by beautiful lakes and belongs to the district Nettetal. Coming from Krefeld, Moers, Mönchengladbach or Düsseldorf, it takes around 30-45 minutes by car to arrive at the sports village. Coming from Kleve, Wesel or Cologne it can be reached within an hour.
Football camps in Hinsbeck
Our "English Week 11-15 years", our "International Football Week 11-16 years", as well as our "Football camp for girls" take place in the sports village Hinsbeck.